A Shelby County Lawyer With Experience Who Cares About You


Whether you have been arrested, were injured in an accident or on the job, are getting divorced, or wanting to adopt a child, the Law Office of Clint C. Thomas, P.C., Attorney at Law, is the place for you. I have over 23 years of legal experience in central Alabama and have successfully handled almost all types of cases in Shelby, Chilton, Bibb, Jefferson, Talladega, Coosa and the other Birmingham metropolitan area counties. I do return telephone calls and do my best to treat you like I would like someone to treat me.

General Practice: Many people ask me what area of the law that I practice in, and most are happy to hear that I practice in almost all areas of the law. I have found through experience that legal issues cannot be looked at in a vacuum because one problem may be impacted by several different laws. For example, divorces often involve property settlements, and child custody issues, but can also have tax implications, pension issues and real estate questions connected with them. I feel that by having a broad legal experience I am well suited to handle your case because I am able to look at the entire picture and not just the single issue at hand.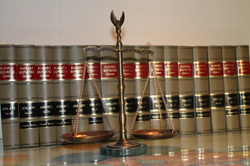 Communication: This is probably the most important element of the
attorney-client relationship. I work hard to keep you informed of any new developments on your case, and I am here to answer your questions and address your concerns. I do return telephone calls. I believe that it is important for you to feel comfortable throughout my representation of you on your case. The legal system is complex and confusing, and I strive to explain the law and its legal procedure to you in a simple, easy to understand way without complicated legal jargon.
---
Court Locations: I frequently handle cases in the municipal courts of Alabaster, Calera, Columbiana, Montevallo, Pelham, Helena, Hoover, Childersburg, Talladega, Jemison, Thorsby, Clanton, Birmingham, Bessemer and Homewood. I also represent clients on almost all types of cases in the District Court, Circuit Court, Probate Court, Drug Court, Mental Health Court and Veteran's Court in Shelby, Chilton, Bibb, Jefferson, Talladega, St. Clair County and most other surrounding counties.

Shelby County Personal Injury Lawyer: I can represent you on any type of personal injury, car wreck, wrongful death or other accident case any where in the State of Alabama, and I will work hard to get you the money that you deserve. Most personal injury and Worker's Compensation cases are handled on a contingency fee basis which means that you do not have to pay any money up-front. My attorney's fee is taken out of the money that I get for you. And, my office is conveniently located in Calera, just off of the #228 exit of I-65 South so you do not have to drive to downtown Birmingham to hire a car wreck, accident or personal injury lawyer.

Why choose a personal injury lawyer from Calera, Alabama?: Calera is the geographic center of the State of Alabama, which makes it very convenient for both you and me. Calera is about thiry minutes south of Birmingham straight down I-65. Many people who are injured in a car wreck or an accident at work are not able to travel long distances, and sometimes not at all, immediately after the accident due to their physical injuries. Therefore, it is important to choose a lawyer that is conveniently located near you, and without the hassel of Birmingham traffic.



(c) Clint C. Thomas, P.C., Attorney at Law

Photo copyrights: Lane Erikson (car wreck) - Fotolia.com GOL (courthouse) - Fotolia.com Oscar Williams (man being arrested) - Fotolia.com Moodboard (woman in jail) - Fotolia.com Zimmytws (divorce decree) - Fotolia.com Samuel Borges (American flag) - Fotolia.com Mangostock (Job injury form) - Fotolia.com


The Alabama State Bar requires the following disclaimer: No representation is made that the quality of the legal services to be performed is greather than the quality of legal services performed by other lawyers.